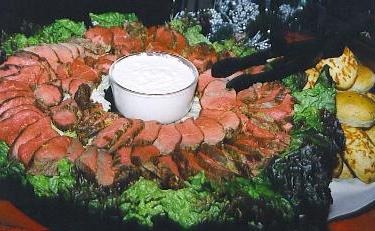 *Beef Tenderloin Sandwiches

Tin Cup Catering @ Aurora Hills Golf Course #303-364-8678

Tin Cup Catering offers you a wide selection of down home cooking buffets and mouth waterng appetizers sure to please everyone. Our in house banquet room can have parties from 15 to 120 people (more upon request) . We offer off site catering as well , or you can pick up trays or buffet items to take with you.

Our friendly staff is here to accommodate any size get together wether it would be a wedding reception, golf outing , anniversary party, or any party of your choice! Our banquet room capacity will hold up to a 120 people. If you are not familiar with our company and your first contact with us is online, we would be pleased to hear from you! Please let us know what your needs and questions are, we will be more than happy to help. We can email or send you a package plan sure to fit anyone's needs. Contact: tincupcwj@comcast.net

In brief, you should know the following about us: our company was established in2009. We have. been responsible for providing outstanding food and service ever since. Our specialty is in the area of buffet style breakfast, luncheons, or dinners.. Our regular customers particularly value the friendly and professional atmosphere we provide. Our prices are very reasonable and the quality is outstanding. Our business is located at 50 South Peoria Street Aurora, Colorado 80012.

Our motto: From Out Banquet Room, To Your Back Yard, To A Castle Or Anything In Between...............

Also visit our restuarant open for breakfast, lunch and dinner. Dine on our patio overlooking the golf course! Call for operating hours! #303-364-8678